When I started rock climbing, goodbyes stopped feeling like a goodbye and more like a "see you later". I know in my heart that I will see most of you out on a rock somewhere at some point in time—and part of the fun in that is not knowing when.
A part of this trip has been about processing the big hurricane of change that my best friend, Christina, is about to launch. Many people enter your life—Christina Natal is one of those people who has an effect on you, whether you want her to or not. That's just part of her personality. Forget the fact that she is an extraordinary rock and ice climber; she is a woman who lives her entire life with such intention and love, and you are a better person for knowing her.
We met when I first moved to Brooklyn. My life was in a state of panic: my boyfriend and I had split up, I had taken all of my worldly possessions to NYC and moved them into a shoebox, I hadn't even finished college, and I literally had no money. To top it off, I was just a spring chicken, stepping into the world of climbing—one of which I did not feel like I belonged.
I remember the first day we shook hands and said hello—she was finishing nursing school and looking for part-time work. She then walked the Univega (the very same bicycle I now ride every day to work) out of the gear shop and Arturo turned to me and said, "That woman is a badass climber."
I was out of my league even thinking we'd be friends, let alone climbing partners. She was well experienced with her technical climbing skills, and all anybody could talk about was what a badass she was. So I took it upon myself to avoid her like the plague. Eventually, I had to work through those feelings and summon all of my courage to walk up to her in the break room one evening. My shift had just ended, and hers was probably just beginning. I'd like to think I articulated it well, but I probably blurted out a sad apology for being such a shitty, terrible person, and the fact of the matter was that she intimidated the hell out of me—and maybe she'd like to climb with me some day?
We climbed once together in that first year of friendship, where she put me on my third lead climb in the Gunks, Baby (5.6) and I forever dubbed her a sandbagger.
We didn't tie in again for several years, both embarking on our own journeys that took us all over the country. The beautiful thing was that even though we spent so much time apart, we kept coming back to each other only to have bigger and better stories to share. And her stories have inspired me for decades to come.
I've always thought that the best friendships in life are the ones where you aren't up each other's asses all of the time, demanding that person's time for your own. You exchange ideas and help each other, and you don't talk shit about each other and constantly compare. You live your life and share your experiences with others, and they live and share theirs.
Over the time I've known her, I have been moved by the many accomplishments of this woman. She has achieved all of her big moments of success by remaining dedicated to both the sport and her heart. Moments of success, we both agree, aren't always sends and onsights. It's about perspective. Throughout eight years of rock climbing, she has pushed past physical challenges as well as mastering the emotional and mental game involved.
In 2009, she learned how to carry her own weight on big climbs, which gave her the confidence in her competence as both a leader and partner. She took her knowledge and fearlessly aid soloed the Leaning Tower in Yosemite. Christina walked up to Bulletproof (5.13a) at Farley Ledges and inspiration hit her, and as of last month has made the most progress on the monster offwidth project.
She once read an issue of Alpinist when she had started climbing about the Diamond, and this summer she realized that dream.
"You know those articles that just wow you with the history of the place, the adventure that leaves you dreaming of that thousand yard stare? It was something that stuck with me. So far out of reach in my days following 5.8 in the Gunks.
And then this year the Diamond wasn't a far away epic idea, but something tangible. Sure, I fell on the crux pitch but whatever. That's not the point. We bivyed three nights waiting for weather. Hiked the approach twice, crossing snowfields that scared the crap out of me. Twenty-two hours of motion. Sure, it gets a rep as being a freakin' climbing gym for locals these days, but it was an epic adventure for us. We put in a lot of time up there and earned that mountain. I stood at that summit and thought about the other climbs I dream of. Cerro Torre…one day that will be possible too."
I asked Christina about some of her biggest achievements in climbing:
"Most of these aren't achievements per se. It's more of that personal journey of following your dreams and believing you are capable of anything you want. Everything seems big and impossible from far away, but take one move, one step, one pitch, one mile at a time, the journey unfolds and there you are! Finding that out. Believing that and continuing to travel and try new things that have always seemed impossible to me—I think that's my greatest achievement over the past eight years in climbing. Who cares what I've actually sent but wow, look at all the stuff I've tried!"
Look, indeed.
What I've realized about climbing is that you enter nature one person and leave it the same. It's the moment of serenity in nature that keeps us returning. Getting away from the everyday clutter and chaos that is considered "real world" stuff. The calming feeling that washes over me when I'm hanging by a single pad on the crux of a climb—being able to push everything out of my head and charge forward—it's pure meditation.
But when I get back to the parking lot and crack open that first beer, I know that I am the same person I was before. Everything I felt and learned on the rock, I take with me back to the "real world"—and it's helping me build a better life. The moments of calmness I felt then is what helps me through moments like impossible, crying kids or waiting too long in line for a cup of coffee when I'm late for work or traffic jams or too many bills or boys breaking my heart or my mom telling me to go back to college.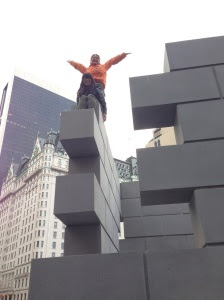 But when Christina came into my life, I knew I was changed forever. This past winter, we talked in great depth of love, life, and climbing. She was there for me in a time when life felt hard and I needed somebody's love and support, and she'll never know how much that means to me. And even though we try to tell people what they mean to us, they'll never really know. I opened myself to her about a restlessness that felt like it was taking over my life. She told me, "If you decide today to stop climbing forever, that's okay. You'll still be Kathy Karlo. You will still be you."
Christina reminded me that it's about climbing a route that you love, leaving out the expectations of what you can and cannot do, and learning from the rock. You can learn if you're willing to be taught.
She drove out west last year without a partner or a plan—something that I cannot tell you with words how impressive that is to me (who is afraid of everything). She inspires climbers everywhere she goes (every crag and every mountain) with her try-hard attitude and dedication to follow her passions.
Her passions take her to a whole new chapter at the end of this month. I'm saddened that she is moving out of Brooklyn and I've been trying to keep the emotional range of a teaspoon, but ultimately I am excited for what comes next.
Arturo called me a few weeks ago and we had a long conversation about life and all of its moving parts. He told me something I'd never really thought about before, and it applies to where Christina's love and career are taking her and mine as well (and maybe yours, too):
It's all about the onsight. We have no idea what's going to happen next—will there be a safe stance to plug gear? Are we going to bail at the crux or push forward with great pride, strength or stubbornness? Maybe we'll have to build a bivy for a little while and wait out the weather. Sometimes a guidebook is handy, and it's good to know what's coming next. But this isn't a rock climb. This is life. Sometimes you fall, but sometimes you send.
And life is so full of wonder and so full of everything at once. Here's to the next chapter, and everything else in between. And Natal, the next pitch is all yours.